Van Shelving & Racking Adelaide
Vehicle Storage Adelaide
In today's commercial age, a growing number of business owners and solo trades people have sought out van shelving in Adelaide to streamline their inventory and equipment. Streamlining your vehicle storage in Adelaide, can provide a large number of advantages to help you gain a competitive edge. With comprehensive shelving and racking in Adelaide, you can be a lot more efficient with how you organise your tools and equipment. This is why van fit outs in Adelaide are slowly growing in popularity.
Installing van racking in Adelaide has numerous benefits. Here are a few of them.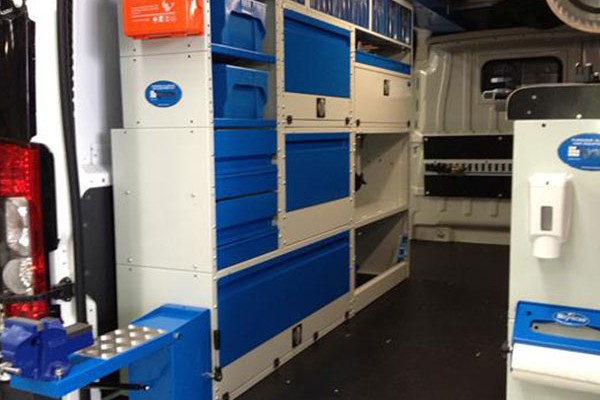 Saves Time
A common problem with unorganised vans is that most trades people have no track of where they've kept the equipment they need for a specific job. This often leads to sifting through a large amount of tools to find the right one, which ends up costing a significant amount of time and in the worst case scenario can end up causing injury to the person sifting through these tools. These problems are alleviated when you go with modular vehicle storage in Adelaide. With proper van racking in Adelaide, you can effectively have a multitude of shelves with separate partitions that allow you to store your tools comprehensively and keep them in an organised manner. This not only allows you to swiftly find the tool you need, but also prevents you from hurting yourself as you do not have to search through a large pile of sharp and dangerous items.
Saves Money
A highly important component of mobile businesses is the need for finishing an assigned job as fast as possible without compromising on the quality and integrity of service. This is not a particularly easy process when you have a clutter of tools in the back of your van that you need to constantly search through to find the right tool. This problem becomes worse if you are dealing with large equipment, which takes its own time for loading and unloading, thereby limiting the number of jobs a specific tradesman can do in a given day. These problems can be solved with comprehensive van fitouts in Adelaide. Using the right systems for shelving and racking in Adelaide, will allow you to organise your tools in such a manner where the right tool for the job is always just a second's grasp away. Furthermore, with comprehensive solutions for vehicle storage in Adelaide, you can install specialised ramps, that make loading and unloading of heavy equipment a breeze, thereby allowing the tradesmen to finish a larger number of jobs in one day.
Protects Tools And Equipment
The strongest advantage afforded by van shelving in Adelaide is how it allows you to keep your tools in their own private compartments. This means that van racking in Adelaide can effectively prevent your tools from bumping and scraping against each other while the van is in motion. In the absence of van fitouts in Adelaide, you are left with a clutter of tools in the back of the van that keep hitting each other on the sides of the van in transit, thereby reducing their longevity and increasing their wear and tear.
Which Syncro products are you interested in?
Get a Free Quote from Syncro, the Top Quality Van Fittings Company in Mebourne.
What Our Customers Say
Words from our Satisfied and Happy customers