Van Shelving in Melbourne
Van Racking and Shelving system
At Syncro Systems we have one of the most versatile van shelving systems in the market. These van shelves are guaranteed to help organise your tools in a much more efficient manner. All Syncro System shelf trays are manufactured with high-strength steel and are popularly known as adjustable shelving. These vehicle shelving systems are focused on being durable enough to effortlessly protect your specialised tools without showing any signs of wear and tear themselves.

Syncro's van shelving in Melbourne stands out due to its high-quality materials, innovative design, and ability to provide customized solutions to meet unique business requirements.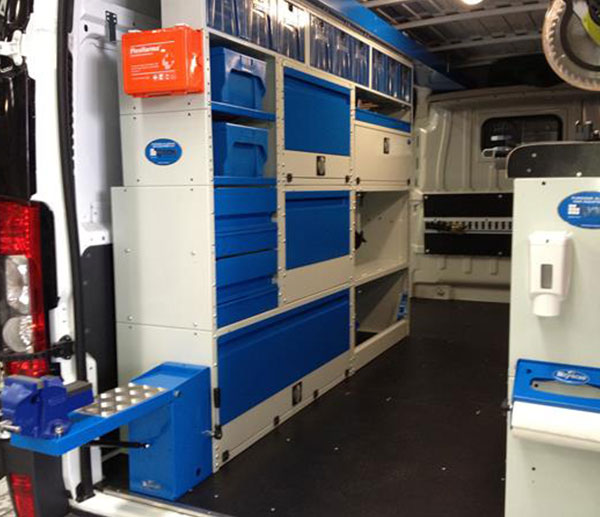 The van shelving systems provided with aluminium dividers come with anti-slip mats and dividers and an anti-vibration fixation system for high performance. This is highly important when it comes to van racks and shelving because there is a high chance of tools and equipment slipping out of the shelves if not for the anti-slip mats. Our van racking offers a modular system that allows for easy reconfiguration, enabling businesses to adapt quickly to changing needs and maximize efficiency.
The trapezoidal design with a higher rear side enables easy access and a superior loading volume for the van storage systems. The van shelving is also available with doors and provided with a gas spring-assisted hinge system. This is one of the primary reasons behind Syncro being at the forefront of solutions for van shelving in Melbourne. Also, Syncro's van shelving has an exceptional load capacity, providing a safe and reliable solution for carrying heavy equipment and tools.
Van Storage Systems include a range of van shelving types such as: Van shelving with doors (Lift Up, Flap Door or Drop Down) Shelving with Heavy Duty Storage Container Shelving with parts cabinet Cable Holder Shelving Shelving with cupboard storage

Shelving with Heavy Duty Storage Container

Shelving with parts cabinet

Cable Holder Shelving

Shelving with cupboard storage
Van Shelving Accessories
Syncro's van shelving accessories offer a wide range of options, including specialized tool holders, drawer units, and case protectors, enabling businesses to create a fully customized workspace in their van.

Our shelving for your van helps its user-friendly design, allowing for easy access to tools and equipment, and maximizing the functionality of the workspace in your van.
Which Syncro products are you interested in?
Get a Free Quote from Syncro, the Top Quality Van Fittings Company in Mebourne.
What Our Customers Say
Words from our Satisfied and Happy customers