Van Fit Outs & Shelving Brisbane
Van Shelving Brisbane
Van fit outs in Brisbane have become an integral part of most businesses that contain a mobile component. With the right van shelving in Brisbane, any trades person or business owner can gain a competitive edge when it comes to increasing their efficiency and maximising their productivity. This is why most trades persons today are choosing some of the best van fit outs in Brisbane to store their equipment and tools.
Here are a few reasons why choosing a comprehensive solution for van shelving in Brisbane would have a surprisingly large impact on your business.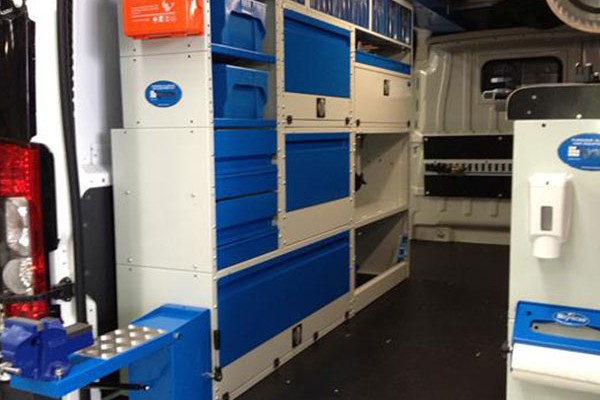 Improved Appearance
Customised van fit outs in Brisbane can go a long way in significantly improving the appearance of your van. The absence of a storage solution means that all of your equipment is cluttered in the back of your van, which in turn can send off the wrong impression to your client, making them feel that you may not be the right fit for the job even though you have all the tools and the experience required. To create an impression of efficiency and professionalism, getting custom van shelving in Brisbane can go a long way. Clients are more likely to be impressed by well organised and efficient tradespeople as compared to tradespeople who do not keep a track of their equipment, constantly having to scramble to find the right tools for the job. The enhanced appearance of tidiness and efficiency can further help your service be recommended allowing you to rise above the competition.
Maximise Space
Van shelving in Brisbane has advanced to the point where there are a large number of customisable and modular options when it comes to the kind of storage solutions you need in the van. This allows you to effectively have more space than you did before as each specialised tool and equipment has its own compartment where it can be comfortably stored. On first glance, this might feel like the amount of storage you had in the back of your van has reduced, but nothing could be further from the truth. You get to have multiple levels, with a racking system that allows you to store three times the number of tools in one space that you could have initially. Comprehensive van shelving in Brisbane will also allow you to easily maximise on the usage of your vertical storage space, which is something that is not utilised in the absence of storage shelves and racks.
Fit For Every Trade
The best part of custom van fit outs in Brisbane, is the ability for them to be adapted to match the requirements of any trade. Whether you are a plumber, carpenter, electrician, or gardener, you can find a storage solution that will be perfect for your needs. If you have a trade that requires the use of multiple highly specialised tools, then you can go for a large number of shelves that can help you store each tool separately. However, if your trade requires the use of large equipment, then you can easily store them by using modular partitions. By using comprehensive van shelving in Brisbane, you can get partitions for each piece of heavy equipment and ramps that allow you to easily load and unload the equipment from the van.
Which Syncro products are you interested in?
Get a Free Quote from Syncro, the Top Quality Van Fittings Company in Mebourne.
What Our Customers Say
Words from our Satisfied and Happy customers