Vehicle Storage & Ladder Racks Perth
If you own a small business or if you're a self employed solo trader, then the most important aspect of your mobile business would be getting the right vehicle for the job. While you can spruce up your branding by improving the vehicle signage, it is usually what's inside the vehicle, that ends up making all the difference. Using comprehensive van shelving in Perth allows you to store all your equipment and tools, with a level of precision and efficiency that can be a game changer for most tradespeople. This is why the incidence of van fit outs in Perth, have been increasing at an exponential rate.
Here are a few advantages of vehicle storage in Perth.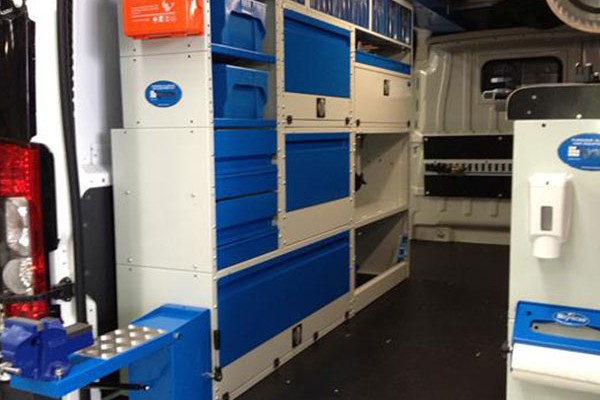 Better Productivity
One of the strongest obstacles to productivity is a lack of organisation and clutter. This becomes compounded when your trade requires the use of specialised tools and equipment. When you reach any job location, it becomes a nightmare to sift through a large amount of tools that have just been lying in the back, and finding the right one for the job. Compare this to professional vehicle storage in Perth, where you have designated drawers that can be labelled, allowing you easy access to any tool you require at a seconds notice. Furthermore, the life of your equipment and tools are compounded due to them not shifting or moving around during transport. This allows your tools and materials to have an increased longevity.
Enhanced Safety
A crucial benefit of van shelving in Perth that cannot be denied is the added amount of safety that occurs with comprehensive vehicle storage. There have been numerous incidents where workers have been seriously injured due to equipment in the back of their vans not being properly tied down. Even when the van is stationary, the risk of injury is a lot higher when you are sifting through a large amount of sharp tools. This risk is completely negated if one goes for customised van fitouts in Perth. With the right storage solutions, every tool stays exactly in its place and the risk of them flying around on an especially bumpy road, simply does not exist. This not only adds a high level of safety and a reduction of stress for the driver, but also improves their confidence and enables him to carry multiple tools for the job.
Impressionable
One of the most important aspects of a functioning business is their appearance. While it may seem vapid to say that, it is undeniable that an organised tradesman exudes a higher level of reliability than an unorganised one. And one of the easiest ways to showcase this level of organisation is through your van racking in Perth. Driving up to the job location with customised ladder racks in Perth will give off an impression that the tradesman, or the business owner takes their profession very seriously, and gives a level of confidence to the client when it comes to how well the job will be done. This is why van shelving in Perth becomes a crucial selling tactic, while being a productivity booster.
Which Syncro products are you interested in?
Get a Free Quote from Syncro, the Top Quality Van Fittings Company in Mebourne.
What Our Customers Say
Words from our Satisfied and Happy customers