Vehicle Storage Solutions Sydney
Large cities like Sydney, always have an equally large number of trades and jobs that are going on at any given time. These tradespeople tend to have a mobile component to their business, where they provide services all across the city. Most of these tradespeople use vans to travel, which is why van shelving in Sydney has become a highly desirable component of most mobile businesses.
When you choose the right van racking in Sydney, you are able to efficiently maximise your storage opportunities, and as such are able to cater to more clients in the large city allowing you to have a competitive edge. This is why most van fitouts in in Sydney have been upgraded to reflect the advancements in technology, allowing trades people to stay ahead of the competition.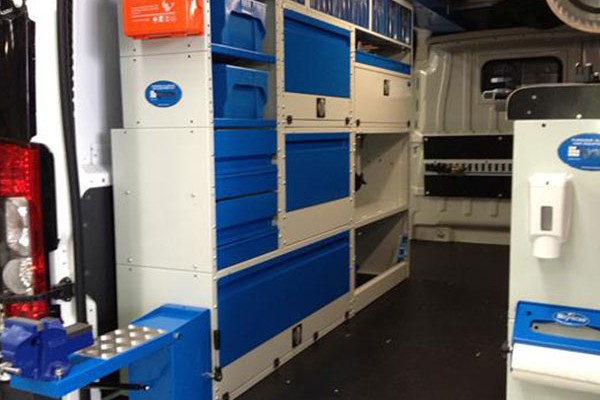 More Efficiency
Customised vehicle storage in Sydney can provide a significant boost in efficiency for multiple companies. They basically allow you to fit a variety of shelves and ladder racks that can be customised to fit the user's requirements. For example, if your business requires you to constantly keep taking out different tools from different parts of the van, then you can go with multiple smaller shelves that have easier access. On the other side if your trade requires the use of one or two large components, then the system can be made in such a way that the components have zero difficulty in being unloaded or loaded. This is one of the primary reasons behind ladder racks in Sydney gaining a higher level of popularity amongst tradespeople and companies.
More Organisation
One of the best features of van shelving in Sydney, is the ability to organise all the tools that are required for the job with comprehensive vehicle storage in Sydney. An individual can ideally store every single tool they need with easier access that makes any trade a simpler and faster affair. With the right custom van fitouts in Sydney, you can effectively optimise your productivity by knowing exactly where the tools are for the specific job at hand. This not only allows you to keep track of every piece of equipment you are carrying, but also allows each type of equipment to have its own specialised container to help maximise space inside the van.
More Comfort
Tradespeople are up and about, from the wee hours of the morning to the late hours of night and are constantly mobile as they have to service a large number of clients over a massive city like Sydney. This is why van racking in Sydney becomes extremely crucial, not just to allow tradespeople to carry out their job with a higher level of efficiency, but also to allow the tradespeople to have a level of comfort while they carry out their jobs. With the right vehicle storage in Sydney, you can not only maximise the space of your storage, but can also provide a cohesive mobile unit that is able to produce your equipment for you at the drop of a hat. With labelled vehicle drawers, van shelving in Sydney has become a necessity for a lot of business owners. This is in sharp contrast to poor vehicle storage in Sydney, where a lot of time, the tools required for the job are just cluttered in the back costing the tradesman multiple hours in a day to sort through each and every one of them.
Which Syncro products are you interested in?
Get a Free Quote from Syncro, the Top Quality Van Fittings Company in Mebourne.
What Our Customers Say
Words from our Satisfied and Happy customers